Episode 7 Federal Workers Compensation Coffee Break Podcast – CA-2 Occuptional Illness/Injury Filing
By Jorge Rodriguez In Uncategorized On January 6, 2022
---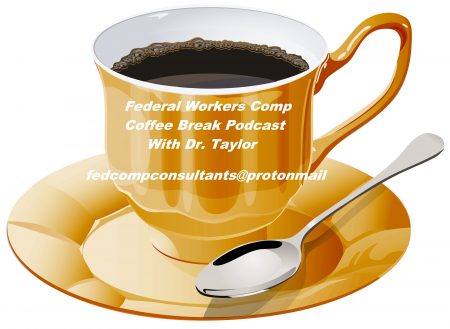 Federal Workers Comp Coffee Break
Episode 7 Federal Workers Compensation Coffee Break Podcast – CA-2 Occuptional Illness/Injury Filing
ESTABLISHING AN OCCUPATIONAL INJURY OR ILLNESS CA-2
Federal Workers Compensation Coffee Break Podcast is about all things related to Federal Workers Compensation, FECA, OWCP, DOL & Longshore claim filing as an injured federal worker. The podcast is an educational and informative training on how to navigate the OWCP claims filing process for all types of injured US government and federal workers. The podcaster has 26 years in assisting with federal workers compensation as a consultant and trainer. The podcast is free and is educational. If you need help with anything related to a federal workers compensation claim…help is just a cup of coffee away. This episode covers tips on how to successfully submit a DOL – OWCP, Federal Workers Compensation CA-2 Occupation Illness or Injury clam.
Occupational illness is defined as a medical conditioning produced in the work environment over a period longer than a single work day or shift and caused by such factors as system infection, continued or repeated stress or strain or exposure to hazardous elements such as, but not limited to, toxins, poisons, fumes, noise, particles of radiation, or other continued or repeated conditions or factors of the work environment.
Things to note about establishing the history of a beyond a single day event or single shift type of injury:
First, understand that to establish an occupational illness or injury the responsibility falls mostly on the injured federal worker. The burden of proof standard required for proving the history of the injury for these types of claims falls squarely on the injured federal worker's ability to prove that the occupational Injury/illness is directly related to employment conditions and/or factors or aggravated by employment. required activities.
The short coffee break format highlights solutions and gives directions on how to successfully resolve any federal workers compensation claim related issue. So if you are a federal employee and you want to learn about OWCP – DOL & FECA workers compensation….pour a cup of coffee and drop by…you will be glad you did.
Here is the link for the CA-2: https://www.dol.gov/sites/dolgov/files/owcp/regs/compliance/ca-2.pdf
Here is the link for the CA-35: https://www.dol.gov/sites/dolgov/files/owcp/regs/compliance/ca-35.pdf
Dr. Taylor's education podcast utilizes his experience and history as a DOL – OWCP provider and his years of consulting and teaching all things federal workers compensation related. This is an educational short form format for learning how to successfully file federal workers compensation claims. So grab a cup of coffee and lets begin.
Dr. Taylor's contact information for more information or assistance is:
fedcompconsultants@protonmail.com
If you need a DOL – OWCP – Federal Workers Compensation Florida, Tampa or Jacksonville medical provider or assistance with a DOL claim in Florida you can make an appointment to see our providers at at 813-877-6900
The clinic website is https://mrtherapycenter.com/federal-work-injury-blog/
---