Episode 11 Federal Workers Compensation Coffee Break Podcast – 5 Basic Elements of Establishing a DOL Claim
By Jorge Rodriguez In Uncategorized On February 21, 2022
---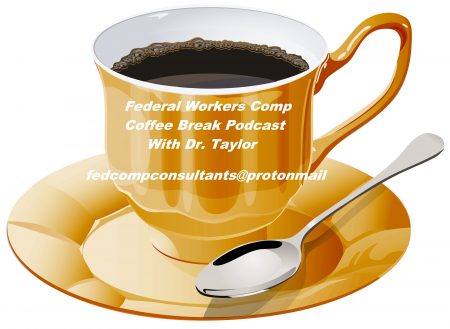 Federal Workers Comp Coffee Break
Federal Workers Compensation Coffee Break Podcast is about all things related to Federal Workers Compensation, FECA, OWCP, DOL & Longshore claim filing as an injured federal worker. The podcast is an educational and informative training on how to navigate the DOL, OWCP claims filing process for all types of injured US government and federal workers. The podcaster has 27 years in assisting with federal workers compensation as a consultant and trainer. The podcast is free and is educational. If you need help with anything related to a federal workers compensation claim…help is just a cup of coffee away.
ESTABLISHING A DOL CLAIM FOR FEDERAL WORKERS COMPENSATION
When filing a workers' compensation claim, the burden of proof is on the employee. Therefore, it is the employee's responsibility to show a causal relationship between his or her disability and an on-the-job injury, or his or her claimed occupational disease and conditions of employment.
Burden of Proof
•It is the claimant's responsibility to establish the five basic requirements of a claim, which is known as the "burden of proof."
•It is OWCP's responsibility to establish willful misconduct, injury caused by intoxication, or intent to cause an injury (Statutory Exclusions) during the adjudication phase of the claim.
Burden of Proof – Employee Responsibilities
•The burden of proof to establish the essential elements of the claim
•Submit factual evidence as required by OWCP
•Provide medical evidence as requested
•Keep supervisor informed of condition
•Return to work as soon as medically able
Only OWCP has the authority to approve/disapprove a claim.
ELEMENTS OF A CLAIM
•Time
•Civil employee
•Fact of injury
•Performance of duty
•Causal relationship
ALL 5 ELEMENTS MUST BE MET BEFORE BENEFITS CAN BE AWARDED
Dr. Taylor's educational podcast utilizes his experience and history as a DOL – OWCP provider and his years of consulting and teaching all things federal workers compensation related. This is an educational short form format for learning how to successfully file federal workers compensation claims. So grab a cup of coffee and lets begin.
Dr. Taylor's contact information for more information or assistance is:
https://fedcompconsultants@protonmail.com
If you need a provider or assistance with a DOL claim in Tampa, Jacksonville or other areas of Florida you can make an appointment to see him and the other providers at his clinic at 813-877-6900
His clinic website is https://mrtherapycenter.com/federal-work-injury-blog/
---