Episode 12 Federal Workers Compensation Coffee Break Podcast – Continuation of Pay (COP) Part 1
By Jorge Rodriguez In Uncategorized On March 7, 2022
---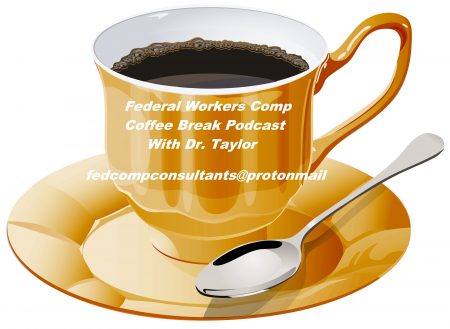 Federal Workers Comp Coffee Break
Federal Workers Compensation Coffee Break Podcast is about all things related to Federal Workers Compensation, FECA, OWCP, DOL & Longshore claim filing as an injured federal worker. The podcast is an educational and informative training on how to navigate the DOL, OWCP claims filing process for all types of injured US government and federal workers. The podcaster has 27 years in assisting with federal workers compensation as a consultant and trainer. The podcast is free and is educational. If you need help with anything related to a federal workers compensation claim…help is just a cup of coffee away.
COP stands for Continuation of Pay & is the continuance of a federal employee's regular pay for a period not to exceed 45 calendar days of disability for a federal worker who is injured on the job. COP is the continuation of your regular pay check uninterrupted for 45 days rather than being paid for time off of work through OWCP. This entire podcast 1 of a 2 part COP series is about being paid while off of work for the first 45 days rather than your employer wrongly using and not reimbursing YOU the injured worker for your LEAVE!
Continuation of Pay (COP)
•Applies to traumatic cases only
•Intent is to avoid interruption of pay while the claim is adjudicated.
•COP can be paid for the following:
•Disability – Total or Partial
•Lost elements of pay – (e.g. night differential, holiday pay)
•Lost time for medical appointments
•After entitlement to COP ends, the employee may apply for compensation or use leave
We will cover these 7 bulletin points in detail in this podcast and then we will cover other important factors of COP to include common scenarios of how to calculate and/or apply or qualify correctly for FACTORS that COP can be applied to….in the 2nd podcast in this two part series.
Dr. Taylor's educational podcast utilizes his experience and history as a DOL – OWCP provider and his years of consulting and teaching all things federal workers compensation related. This is an educational short form format for learning how to successfully file federal workers compensation claims. So grab a cup of coffee and lets begin.
Dr. Taylor's contact information for more information or assistance is:
https://fedcompconsultants@protonmail.com
If you need a provider or assistance with a DOL claim in Tampa, Jacksonville or other areas of Florida you can make an appointment to see him and the other providers at his clinic at 813-877-6900
His clinic website is https://mrtherapycenter.com/federal-work-injury-blog/
---