Episode 13 Federal Workers Compensation Coffee Break Podcast – Continuation of Pay (COP) Part 2
By Jorge Rodriguez In Uncategorized On March 7, 2022
---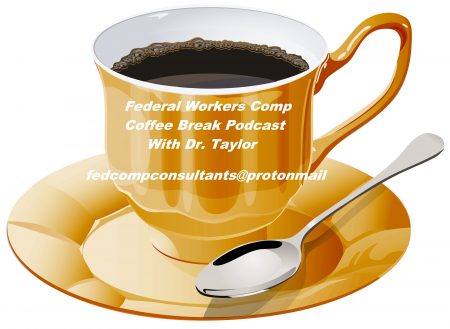 Federal Workers Comp Coffee Break
Federal Workers Compensation Coffee Break Podcast is about all things related to Federal Workers Compensation, FECA, OWCP, DOL & Longshore claim filing as an injured federal worker. The podcast is an educational and informative training on how to navigate the DOL, OWCP claims filing process for all types of injured US government and federal workers. The podcaster has 27 years in assisting with federal workers compensation as a consultant and trainer. The podcast is free and is educational. If you need help with anything related to a federal workers compensation claim…help is just a cup of coffee away.
COP stands for Continuation of Pay & is the continuance of a federal employee's regular pay for a period not to exceed 45 calendar days of disability for a federal worker who is injured on the job. COP is the continuation of your regular pay check uninterrupted for 45 days rather than being paid for time off of work through OWCP. This entire podcast 2 part COP series is about being paid while off of work for the first 45 days rather than your employer wrongly using and not reimbursing YOU the injured worker for your LEAVE!
In the second part of our COP series wee address the COP rules for Postal workers, discuss termination of COP and practicing some COP scenarios and practice questions.
1.Continuation of Pay (COP) is the continuance of the employee's regular pay for a period not to exceed 45 calendar days of disability
2.Employee must begin losing time from work due to traumatic injury within 45 days of the injury to be eligible for COP.
3.COP should be charged for weekends and holidays if the medical evidence shows the employee was disabled on the days in question – calendar days are counted, not just work days.
4. If an employee returns to work following a work stoppage without using all 45 days of COP and then suffers a recurrence of disability within 45 days from the first Return To
Work date, the employee is entitled to use the remainder of the 45 days.
5. To controvert the claim, the agency must complete the indicated portion of Form CA-1 and submit detailed information in support of the controversion to the OWCP.
6. An YOUR EMPLOYER's objection to paying COP for one of nine reasons provided by regulation is called "controversion". COP may be controverted only if one of the nine reasons apply.
7. When YOUR EMPLOYER has paid COP, it may be stopped only in certain instances. Please see Continuation of Pay presentation for those instances.
Dr. Taylor's educational podcast utilizes his experience and history as a DOL – OWCP provider and his years of consulting and teaching all things federal workers compensation related. This is an educational short form format for learning how to successfully file federal workers compensation claims. So grab a cup of coffee and lets begin.
Dr. Taylor's contact information for more information or assistance is:
https://fedcompconsultants@protonmail.com
If you need a provider or assistance with a DOL claim in Tampa, Jacksonville or other areas of Florida you can make an appointment to see him and the other providers at his clinic at
813-877-6900
His clinic website is https://mrtherapycenter.com/federal-work-injury-blog/ and the podcast is located at https://www.buzzsprout.com/1902653/episodes/10205906
---