Episode 14 Federal Workers Compensation Coffee Break Podcast – Scheduled Awards Part 1 of 2
By Jorge Rodriguez In Uncategorized On March 11, 2022
---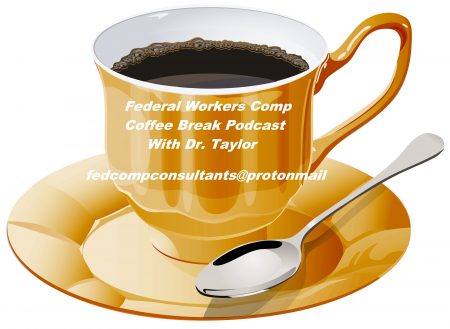 Federal Workers Comp Coffee Break
Federal Workers Compensation Coffee Break Podcast is about all things related to Federal Workers Compensation, FECA, OWCP, DOL & Longshore claim filing as an injured federal worker. The podcast is an educational and informative training on how to navigate the DOL, OWCP claims filing process for all types of injured US government and federal workers. The podcaster has 27 years in assisting with federal workers compensation as a consultant and trainer. The podcast is free and is educational. If you need help with anything related to a federal workers compensation claim…help is just a cup of coffee away.
Schedule Awards are monetary payments for a prescribed number of weeks to federal employees who suffer the permanent total or partial loss of use of those anatomical members, functions or organs of the body that are listed on the OWCP website. There are many body parts that are covered and some that are excluded. I would suggest you go over the body part list on the OWCP website. For the sake of brevity we will not cover each body part. This is 2 part podcast series. The firs podcast is me narrating the exact wording of the DFEC procedure manual on all of the legislated rules and provision of impairment rating and scheduled awards.
The schedule award is payable whether the employee is working, sick or on annual leave, receiving retirement benefits, or is no longer employed by the federal government. However, an employee cannot receive a schedule award while receiving compensation for wage loss at the same time they receive the schedule award.
DFEC Procedure Manual Part 2 Scheduled AWARDS
Entitlement to Schedule Awards. Permanent impairment to certain parts of the body will entitle the claimant to an award of compensation payable for a set number of weeks. The Claims Examiner (CE) should monitor medical reports for the possibility of eventual impairment to a schedule member and the date by which maximum medical improvement (MMI) is expected. If it appears that a schedule award may be payable, the CE should advise the claimant via Form CA-1053, or the equivalent, of his or her possible entitlement to such an award.
Here is the link to the DFEC Procedure Manual portion addressing the federal rules associated with Scheduled Awards, MMI, and Impairment Ratings:
https://www.dol.gov/agencies/owcp/FECA/regs/compliance/DFECfolio/FECA-PT2/group2#20808
Happy Hunting! 🙂
Dr. Taylor's educational podcast utilizes his experience and history as a DOL – OWCP provider and his years of consulting and teaching all things federal workers compensation related. This is an educational short form format for learning how to successfully file federal workers compensation claims. So grab a cup of coffee and lets begin.
Dr. Taylor's contact information for more information or assistance is:
https://fedcompconsultants@protonmail.com
If you need a provider or assistance with a DOL claim in Tampa, Jacksonville or other areas of Florida you can make an appointment to see him and the other providers at his clinic at
813-877-6900
His clinic website is https://mrtherapycenter.com/federal-work-injury-blog/
---