Episode 15 Federal Workers Compensation Coffee Break Podcast – Scheduled Awards, Impairment Ratings and Disability -Part Two of Two
By Jorge Rodriguez In Uncategorized On March 11, 2022
---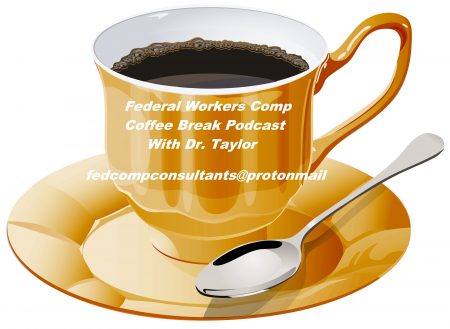 Federal Workers Comp Coffee Break
Federal Workers Compensation Coffee Break Podcast is about all things related to Federal Workers Compensation, FECA, OWCP, DOL & Longshore claim filing as an injured federal worker. The podcast is an educational and informative training on how to navigate the DOL, OWCP claims filing process for all types of injured US government and federal workers. The podcaster has 27 years in assisting with federal workers compensation as a consultant and trainer. The podcast is free and is educational. If you need help with anything related to a federal workers compensation claim…help is just a cup of coffee away.
In order to receive a Schedule Award, the person must be rated by a physician, using the AMA Guides to the Evaluation of Permanent Impairment, Sixth Edition, otherwise known as the AMA GUIDE 6th Edition. Prior to receiving the rating, the person has to have reached Maximum Medical Improvement, which is referred to as MMI. This rating should not be for the whole body, but for the injured body area or body part, such as 25% of the right lower extremity. When the physician rates the injured employee, YOUR physician is required to reference the page number and paragraph of the sixth edition guides to the evaluation of permanent impairment that relates to the employee's ratings.
Please be aware that one does not have to accept surgery before receiving a Schedule Award. No invasive procedure can be performed on the claimant if he or she objects to it. Invasive procedures are considered anytime you penetrate the skin, such as injections or other procedures such as surgeries.
What should the employer do when an employee files an initial claim for compensation due to disability or permanent impairment ?
Upon receipt of Form CA-7 from the employee, the employer shall complete the appropriate portions of the form. As soon as possible, but no more than five (5) working days after receipt from the employee, the employer shall forward the completed Form CA-7 and accompanying medical report to OWCP. OWCP clarifies schedule award procedures, including how pre-existing or ,nonindustrial medical conditions affect these important permanent disability awards.
I want to talk about a common misunderstood and misused category that claims examiners and second opinion doctors attempt to utilize that is not included in the DFEC procedure manual or Code of Federal Regulations. The word that I am referring to is called apportionment.
Under federal law, there is no "apportionment" – that is, if your employment contributed to any degree to the medical condition causing the disability, the entire disability is covered in full.
Link to the DFEC Procedure Manual portion:
https://www.dol.gov/agencies/owcp/FECA/regs/compliance/DFECfolio/FECA-PT2/group2#20808
Happy Hunting! 🙂
Dr. Taylor's educational podcast utilizes his experience and history as a DOL – OWCP provider and his years of consulting and teaching all things federal workers compensation related. This is an educational short form format for learning how to successfully file federal workers compensation claims. So grab a cup of coffee and lets begin.
Dr. Taylor's contact information for more information or assistance is:
https://fedcompconsultants@protonmail.com
If you need a provider or assistance with a DOL claim in Tampa, Jacksonville or other areas of Florida you can make an appointment to see him and the other providers at his clinic at
813-877-6900
His clinic website is https://mrtherapycenter.com/federal-work-injury-blog/
---