Episode 18 Federal Workers Compensation Coffee Break Podcast – VA Disability Claims & Benefits
By Jorge Rodriguez In Uncategorized On April 4, 2022
---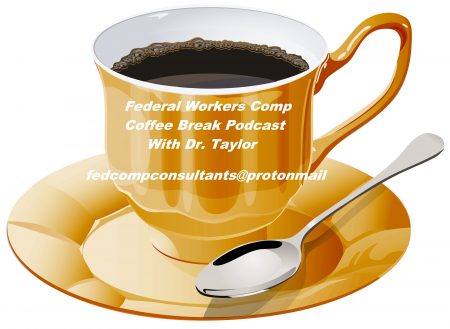 Federal Workers Comp Coffee Break Podcast
Federal Workers Compensation Coffee Break Podcast is about all things related to Federal Workers Compensation, FECA, OWCP, DOL & Longshore claim filing as an injured federal worker. The podcast is an educational and informative training on how to navigate the DOL, OWCP claims filing process for all types of injured US government and federal workers. The podcaster has 27 years in assisting with federal workers compensation as a consultant and trainer. The podcast is free and is educational. If you need help with anything related to a federal workers compensation claim…help is just a cup of coffee away.
How do I prepare before starting my VA Disability application?
Find out if you're eligible for VA disability compensation
What evidence will I need to provide to support my VA Disability claim?
There are four key things you need to do:
(1) Determine if you are eligible for VA Disability Compensation
(2) Gather sufficient proof to support your disability claim
(3) Fill out all the necessary VA disability claim forms to complete your claim
(4) File your claim through one of the three approaches: mail, in person, online
You can help to support your VA disability claim by providing documents such as:
VA medical records and hospital records that relate to your claimed illnesses or injuries or that show your rated disability has gotten worse
Private medical records and hospital reports that relate to your claimed illnesses or injuries or that show your disability has gotten worse
Supporting statements you'd like to provide from family members, friends, clergy members, law enforcement personnel, or those you served with that can tell us more about your claimed condition and how and when it happened or how it got worse
Depending on the type of claim you file, you may gather supporting documents yourself, or you can ask for our help to gather evidence.
How do I file my claim? You can file your disability compensation claim online right now.File a disability compensation claim You can also file a disability claim: By mail, in person or online or with the help of a trained professional.
VA Forms 21-4142 and 21-4142a: https://www.vba.va.gov/pubs/forms/VBA-21-4142-ARE.pdf
Evidence You Need:
Once you are certain that you are in the position to file a VA claim, prepare sufficient evidence. It will depend on the disability you claim, but in general, these supporting docs are needed:
VA medical records, private medical records, hospital records, and service treatment records relating to your injuries or illnesses or show your rated disability has aggravated
Supporting statements from your family, friends, clergy members, the law enforcement, or those who were in service with you
VA Disability Claims Require a Medical Nexus Report
What is a Nexus Report? also known as a DBQ!
A nexus report is a medical causation report where your physician provides the medical explanation of how your injuries or conditions are service connected. The VA will help you request your records from VA medical centers, any federal agency, and the Social Security Administration. Plus, the VA will help you schedule a health exam or get a health care provider's opinion. VA values evidence from your personal and VA treatment providers because they are familiar with your medical history, often over a long period of time. Veteran affairs considers the trusted relationship between your personal treatment providers and their Veteran patients. You can get these type of reports for free at the VA and you can also get them through our medical team or through providers who work with VA Disability Claim lawyers. Either way if you need help with your VA Disability claim …we are here to help!
(VSO)Veterans Service Office assistance list link:
https://www.va.gov/ogc/apps/accreditation/index.asp
Dr. Taylor's educational podcast utilizes his experience and history as a DOL – OWCP provider and his years of consulting and teaching all things federal workers compensation related. This is an educational short form format for learning how to successfully file federal workers compensation claims. So grab a cup of coffee and lets begin.
Dr. Taylor's contact information for more information or assistance is: tecconsulting@outlook.com
If you need a provider or assistance with a VA Disability claim, OWCP – DOL claim in Tampa, Jacksonville or other areas of Florida you can make an appointment to see him and Dr. Thomas at one our clinic locations or call at 813-877-6900.
His clinic website is https://mrtherapycenter.com/federal-work-injury-blog/ or at twitter at https://twitter.com/FedCompPodcast
---