Episode 24 Federal Workers Compensation Coffee Break Podcast – Longshore & Harbor Workers Compensation Part 2
By Jorge Rodriguez In Uncategorized On June 24, 2022
---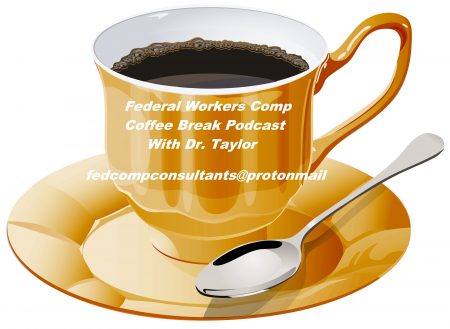 Federal Workers Comp Coffee Break Podcast
Federal Workers Compensation Coffee Break Podcast is about all things related to Federal Workers Compensation, FECA, OWCP, DOL; Longshore claim filing as an injured federal worker. The podcast is an educational and informative training on how to navigate the DOL, OWCP claims filing process for all types of injured US government and federal workers. The podcaster has 27 years in assisting with federal workers compensation as a consultant and trainer. The podcast is free and is educational. If you need help with anything related to a federal workers compensation claim…help is just a cup of coffee away.
Longshore and Harbor Workers' Compensation Act – (PART TWO)
Part 2 of the Longshore Workers Compensation Podcast
How do I file a claim for Longshore compensation?
In addition to the Notice of Injury given to your employer, you should file a written claim with the OWCP within one (1) year after the date of injury; or, if the employer has been voluntarily paying compensation benefits, you should file a written claim within a year of the last payment of compensation. You should use Form LS-203, Employee's Claim for Compensation, to file your written claim.
What is my responsibility to report the injury?
You must give a written notice of injury to the employer within 30 days of the occurrence of the injury or within 30 days of when you become aware that you have an injury or disability related to the employment. You should use Form LS-201, Notice of Employee's Injury or Death, for this purpose.
How do I contact my Claims Examiner?
You can call the District Suboffice that maintains your case file to speak with your Claims Examiner. Office contact information can be found in the Contact Us section on our website. See FAQ 18 and 19 for more information on determining where a case is located.
You may also submit a written inquiry to the following address: U. S. Department of Labor, Office of Workers' Compensation Programs, Division of Longshore and Harbor Workers' Compensation, 400 West Bay Street, Suite 63A, Box 28, Jacksonville, FL 32202.
Where should I submit case file documents?
If you already have an OWCP file number, you can use Longshore's Secure Electronic Access Portal (SEAPortal), located at https://seaportal.dol.gov The SEAPortal is a web-based application (This is ECOMP for LONGSHORE) This can be used by you, or your doctor. You simply need the OWCP case number and the injured worker's last name, date of birth and date of injury.
Dr. Taylor's educational podcast utilizes his experience and history as a DOL – OWCP provider and his years of consulting and teaching all things federal workers compensation related. This is an educational short form format for learning how to successfully file federal workers compensation claims. So grab a cup of coffee and lets begin.
Dr. Taylor's contact information for more information or assistance is:
https://fedcompconsultants@protonmail.com
If you need a provider or assistance with a DOL claim in Tampa, Jacksonville or other areas of Florida you can make an appointment to see him and the other providers at his clinic at 813-877-6900 or in Jacksonville at (904) 504-9660
His clinic twitter: https://twitter.com/FedCompPodcast
---