Episode 29 Federal Workers Compensation Coffee Break Podcast – OWCP – ECOMP Entity Designation
By Jorge Rodriguez In Uncategorized On September 30, 2022
---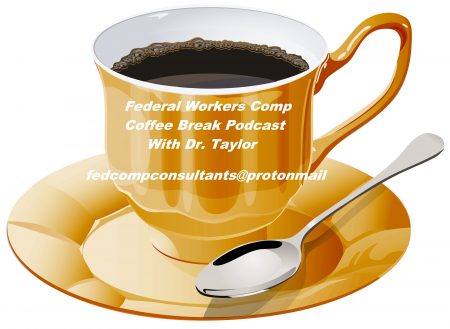 Federal Workers Comp Coffee Break Podcast
Federal Workers Compensation Coffee Break Podcast is about all things related to Federal Workers Compensation, FECA, OWCP, DOL; Longshore claim filing as an injured federal worker. The podcast is an educational and informative training on how to navigate the DOL, OWCP claims filing process for all types of injured US government and federal workers. The podcaster has 27 years in assisting with federal workers compensation as a consultant and trainer. The podcast is free and is educational. If you need help with anything related to a federal workers compensation claim…help is just a cup of coffee away.Dr. Taylor's educational podcast utilizes his experience and history as a DOL – OWCP provider and his years of consulting and teaching all things federal workers compensation related. This is an educational short form format for learning how to successfully file federal workers compensation claims. So grab a cup of coffee and lets begin.
Employees' Compensation Operations and Management Portal (ECOMP) Entity Management System
A new component of ECOMP enables registered, designated representatives to securely view case data and documents in Office of Workers' Compensation (OWCP) case files for the FECA program. Functionality for the Longshore program is being deployed separately. While the basic components of the Entity Management System in ECOMP are the same regardless of OWCP program, there are some program specific nuances.
Under the FECA, a claimant who has filed a claim with the Department of Labor's (DOL) Office of Workers' Compensation Programs, "may authorize an individual to represent him [or her] in any proceeding under this subchapter." 5 U.S.C. § 8127(a). The Code of Federal Regulations provides that while the FECA claims process is informal, "a claimant may appoint one individual to represent his or her interests, but the appointment must be in writing." 20 C.F.R § 10.700 (a). While injured workers are not required to select a representative in order to file or process their FECA claim, they do have the option to request a representative at any time in the life of their claim.
The Entity Management System is a new feature in ECOMP that allows designated representatives, such as law firms, union representatives, or individual attorneys, to access case data and case file documents electronically.
Entities must first register in ECOMP. Once done, any claimant may link an entity representative to their case file(s) in ECOMP. This may be someone who has already previously agreed to representation, or the claimant may request new representation directly in ECOMP. If the designated representative entity accepts the request for representation, the entity will have the ability to view case information such as payment history and pharmacy and bill payment transactions, and view case file documents electronically.
The new entity user will be allowed to request that claimants contact them prior to designating them as an entity in ECOMP. An affirmative selection will generate a prompt for the claimant to verify that they have contacted the entity prior to attempting to link with them in ECOMP, but OWCP cannot enforce this contact requirement.
Dr. Taylor's educational podcast utilizes his experience and history as a DOL – OWCP provider and his years of consulting and teaching all things federal workers compensation related. This is an educational short form format for learning how to successfully file federal workers compensation claims. So grab a cup of coffee and lets begin.
Dr. Taylor's contact information for more information or assistance is:
https://fedcompconsultants@protonmail.com
If you need a provider or assistance with a DOL claim in Tampa, Jacksonville or other areas of Florida you can make an appointment to see him and the other providers at his clinic at
813-877-6900 M & R Medical & Therapy website is https://mrtherapycenter.com/federal-work-injury-blog/ and at twitter: https://twitter.com/FedCompPodcast
---