Episode 31 Federal Workers Compensation Coffee Break Podcast – Eligibility & Exceptions for Scheduled Awards
By Jorge Rodriguez In Uncategorized On February 15, 2023
---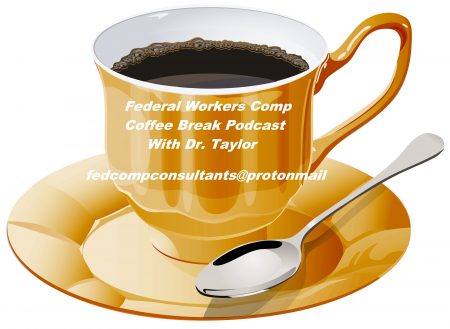 Federal Workers Compensation Coffee Break Podcast is about all things related to Federal Workers Compensation, FECA, OWCP, DOL & Longshore claim filing as an injured federal worker. The podcast is an educational and informative training on how to navigate the DOL -OWCP claims filing process for all types of injured US government and federal workers. The podcaster has 28 years in assisting with federal workers compensation as a consultant and trainer. The podcast is free and is educational. If you need help with anything related to a federal workers compensation claim…help is just a cup of coffee away.
The Office of Workers Compensation Programs (OWCP) has strict criteria and guidelines for eligibility. Your claim must be established in a very specific manner. Our clinic has 28 years of experience providing impairment rating evaluations that are needed to make a successful scheduled award claim. In order to qualify for a scheduled award an impairment rating evaluation needs to be completed by a OWCP approved and properly qualified physician who must submit a narrative report with a description of the medical evidence that satisfy the necessary procedural requirements for a valid impairment including MMI, use of AMA's 6th edition Guides, calculation of rating, citation of AMA tables, etc. BUT the purpose of this podcast is to make sure you understand if you are actually qualified to receive a scheduled award based on your federal work-related injury.
The OWCP lists specific body parts that qualify for receiving a schedule award. Does your injury meet the basic qualifications before you go through the award process? These are the body parts that qualify:
Arm, Leg, Hand, Fingers, Foot, Eye, Breast, Skin, Kidney, Lung, Skin, Throat, Penis, Testicle, Tongue , Ovary, Uterus, Vagina, Toes. Unfortunately, if you have an injured body part, not on the list, you do not qualify for an award.
Dr. Taylor's educational podcast utilizes his experience and history as a DOL – OWCP provider and his years of consulting and teaching all things federal workers compensation related. This is an educational short form format for learning how to successfully file federal workers compensation claims.
Dr. Taylor's contact information for more information or assistance is:
https://fedcompconsultants@protonmail.com
https://www.buzzsprout.com/1902653
https://www.listennotes.com/podcasts/federal-workers-compensation-coffee-break-WBhgbv8mf7S/
https://podyssey.fm/podcast/itunes1600040602-Federal-Workers-Compensation-Coffee-Break
https://www.youtube.com/watch?v=0i5rO_vZk6g
https://www.youtube.com/watch?v=_8hZx8jpQvc
https://federalworkerscompensationcoffeebreak.buzzsprout.com/
https://music.amazon.com/podcasts/4eabf9db-c274-425d-8c88-e90e4cc993b7/federal-workers-compensation-coffee-break
https://podcasts.apple.com/us/podcast/federal-workers-compensation-coffee-break/id1600040602
https://www.iheart.com/podcast/269-federal-workers-compensati-94221295/
https://www.audible.com/pd/Podcast/B08K561MTV
https://open.spotify.com/show/0hlzhDY5IuOEatH0RYdYaX
https://www.podchaser.com/podcasts/federal-workers-compensation-c-3413862
https://podcastaddict.com/podcast/3744253
If you need a provider or assistance with a DOL claim in Tampa, Jacksonville or other areas of Florida you can make an appointment to see him and the other providers at his clinic at
813-877-6900 M & R Medical & Therapy website is https://mrtherapycenter.com/federal-work-injury-blog/
---