Episode 32 Federal Workers Compensation Coffee Break Podcast – Consequential Injuries and Conditions
By Jorge Rodriguez In OWCP Training Modules On February 26, 2023
---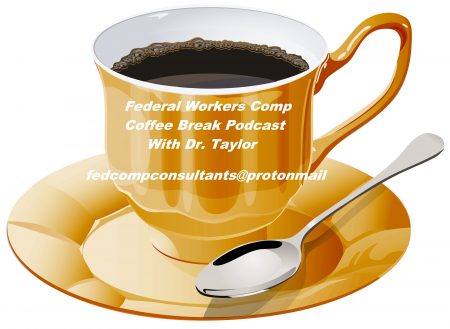 Federal Workers Compensation Coffee Break Podcast is about all things related to Federal Workers Compensation, FECA, OWCP, DOL & Longshore claim filing as an injured federal worker. The podcast is an educational and informative training on how to navigate the DOL -OWCP claims filing process for all types of injured US government and federal workers. The podcaster has 28 years in assisting with federal workers compensation as a consultant and trainer. The podcast is free and is educational. If you need help with anything related to a federal workers compensation claim…help is just a cup of coffee away.
What is a consequential injury or condition?
1. Define 'consequential illness/injury or conditions
2. List the steps required to develop for a consequential illness/injury including for psychological conditions.
Consequential Injury: Any injury or illness occurring as a result of/due to treatment of accepted occupational illness or covered condition .Consequential condition, injury or illness must occur AFTER primary condition accepted.
For establishing a consequential condition, the FECA act and the DFEC procedure manual clearly outline that if the second injury or medical condition is a result of an accepted OWCP injury then the second injury is a consequence of the original injury and the second injury would be accepted by OWCP. After the original acceptance of a claim, an injury occurring outside the performance of duty may affect the compensability of an existing accepted injury. Consequential Injury. This kind of injury occurs because of weakness or impairment caused by a work-related injury, and it may affect the same part of the body as the original injury or a different area altogether. See transcript for further information…
Dr. Taylor's educational podcast utilizes his experience and history as a DOL – OWCP provider and his years of consulting and teaching all things federal workers compensation related. This is an educational short form format for learning how to successfully file federal workers compensation claims. So grab a cup of coffee and lets begin.
Dr. Taylor's contact information for more information or assistance is:
https://fedcompconsultants@protonmail.com
If you need a provider or assistance with a DOL claim in Tampa, Jacksonville or other areas of Florida you can make an appointment to see him and the other providers at his clinic at 813-877-6900 M & R Medical & Therapy website is https://mrtherapycenter.com/federal-work-injury-blog/
---