Episode 35 Federal Workers Compensation Coffee Break Podcast- FAQ from Listeners
By Jorge Rodriguez In Uncategorized On March 26, 2023
---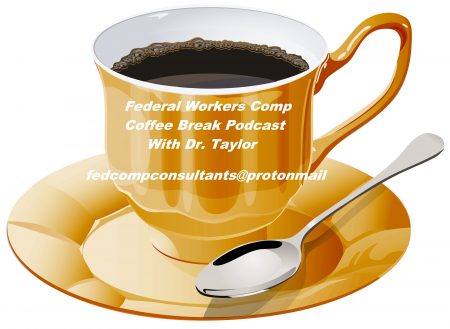 Explaining Common Questions on Rights, Rules, Laws & Regulations
How and when is a notice of traumatic injury filed?
(a) For injuries sustained on or after September 7, 1974, a notice of injury must be filed within three years of the injury.(The form contains the necessary words of claim.) The requirements for filing notice are further described in 5 U.S.C. 8119.
(b) Another section covers timely filing as well at § 10.205 addressing time requirements for filing claims for continuation of pay.
(1) If the claim is not filed within three years, compensation may still be allowed if notice of injury was given within 30 days or the employer had actual knowledge of the injury or death within 30 days after occurrence. This knowledge may consist of written records or verbal
You Have The Right to Choose Your Own Doctor
The employer should advise the employee of the right to his or her initial choice of physician. The employer shall allow the employee to select a qualified physician,
Your EA has 5 days to submit your CA7 to OWCP-DOL
What should the employer do when an employee files an initial claim for compensation due to disability or permanent impairment?
Upon receipt of Form CA-7 from the employee, or someone acting on his or her behalf, the employer shall complete the appropriate portions of the form. As soon as possible, but no more than five working days after receipt from the employee, the employer shall forward the completed Form CA-7 and any accompanying medical report to OWCP…. more on the episode!
Dr. Taylor's educational podcast utilizes his experience and history as a DOL – OWCP provider and his years of consulting and teaching all things federal workers compensation related. This is an educational short form format for learning how to successfully file federal workers compensation claims. So grab a cup of coffee and lets begin.
Dr. Taylor's contact information for more information or assistance is:
https://fedcompconsultants@protonmail.com
If you need a provider or assistance with a DOL claim in Tampa, Jacksonville or other areas of Florida you can make an appointment to see him and the other providers at his clinic at 813-877-6900 M & R Medical & Therapy website is https://mrtherapycenter.com/federal-work-injury-blog/ & at twitter: https://twitter.com/FedCompPodcast
---