Episode 37 Federal Workers Compensation Coffee Break Podcast- FERS Application Deep Dive
By Jorge Rodriguez In Uncategorized On May 15, 2023
---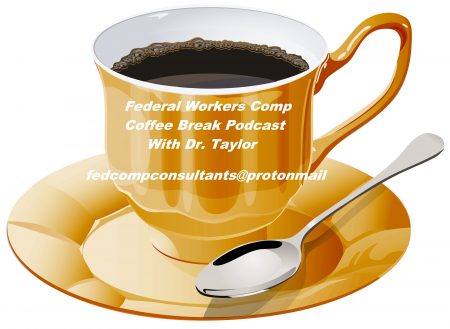 OPM Disability Retirement is a benefit granted to all Federal Employees who meet the criteria of "Disability". By "Disability", however, it does not mean that you must be completely physically incapacitated or disabled either; rather, it simply requires that you demonstrate by examination and history that you are no longer able to provide effective service in the essential elements of your job. Notice how by that standard definition, you do not need to be "totally disabled" in order to be eligible for Federal or Postal disability Retirement under FERS or CSRS. The Office of Personnel Management of your employer reviews all applications for Federal Disability Retirement. It is a benefit which should be looked at as an entitlement and an investment. FERS Provides Early Retirement for both Medical and/or Psychological Conditions. Many people do not understand that and do not know their own rights.
WHO QUALIIFIES FOR Medical Disability Retirement!
You cannot continue to do the work for which you were hired …not that you can not work but that you can not work at the position or an equivalent position for which you were hired.
Cannot perform any gainful employment
The disability must be expected to last at least one year.
Easier and fairer qualification criteria than Social Security Disability
Requires a physician's medical opinion, following OPM rules!
Now this is where I want to spend some time on this podcast!
There are some questions that I have received since the first podcast that I did on FERS.
First of all questions with regard to the physicians medical opinion and it's requirement and the OPM rules that are applied to the physician's medical opinion report requirements.
Ok, gang …first let's understand the three parts of a FERS disability retirement application!
The first part … is the statement prepared by your physician based on federal rules (SF 3112C). The second part is the statement prepared by your employer agency based on federal rules (SF 3112B, SF 3112D, and SF 3112E). And the last part that is required … is your personal statement of disability based on federal rule (SF 3112A). For application success all three statements should be consistent and Your physician's statement is an extremely important component of your disability claim. OPM uses the information contained in SF 3112C to determine whether you meet the medical requirements for FDR.
Ok let's cover the first statement requirements for your physician and his physician statement. This is extremely important so listen closely …Without a strong, detailed testimonial from your physician, it is highly unlikely that OPM will approve your claim.
Here are requirements for your physician statement based on federal rules SF 3112C, the statement from your physician must include all the following:
The background/history of your disabling medical condition(s).
A list of past and present medications.
A list of past and present therapies and/or treatments.
A list of relevant hospitalizations.
A list of relevant operative procedures and/or diagnostic tests.
A detailed account of your symptoms and physical and/or mental limitations.
A specific prognosis. The prognosis has to determine that you're unable to perform your job for a year or more.
A list of your medical restrictions and functional inabilities or functional capacities.
Supporting medical documentation for all the above (e.g., reports, notes, summaries, etc.).
Most importantly, your physician's statement should include a detailed discussion of the causal relationship between your disabling medical conditions and your inability to perform one or more essential functions of your federal position currently. Your physician statement should provide clear evidence of your eligibility for FDR benefits just like all of the other part of the requirements in all three statements.
We now will discuss the second required part of your FERS application which is the statement prepared by your Employer agency (representative i.e. supervisor etc.) based on federal rules (SF 3112B,
SF 3112B provides OPM required information about your history of performance, attendance, and conduct. Specifically, OPM requires your supervisor to verify that your performance, attendance, and/or conduct have degraded significantly since the onset of your medical conditions. Your EA supervisor must provide thorough and compelling evidence that you have a deficiency (in performance, attendance, and/or conduct) affecting your job performance In order to avoid the denials, it is imperative for your supervisor to complete SF 3112B accurately and thoroughly.

Here are some tips to use to give to your supervisor:
If your performance is suffering, your EA representative should provide a list of all essential job functions that you are unable to perform effectively, efficiently, and/or consistently.
If your attendance is suffering, your supervisor should provide the date on which your attendance became unacceptable and an accurate tally of your leave hours, including sick, annual, LWOP, AWOL, and FMLA.
If your conduct is unacceptable, your supervisor should identify the approximate date on which your conduct became unacceptable and provide a detailed narrative of specific incidents and general behaviors that are incompatible with your position description.
Your supervisor should also provide a detailed description of any efforts that the agency has made to accommodate one or more of your disabling medical conditions, especially any failed accommodation attempts. Review SF 3112B for thoroughness if you want your supervisor to provide OPM a clear and accurate account of your work-related deficiencies (i.e., performance, attendance, and/or conduct) to qualify for FERS.
Lastly, the third part of the application is when give your statement or what is called the Applicant's Statement of Disability per SF 3112A and the "Only" Problem.
Question 4 of SF 3112A, Applicant's Statement of Disability, has a single operative word which can be easily overlooked: That word is "only" which is meant to describe that OPM considers only the diseases and/or injuries you discuss in this application. So, my tips to you are the following:
Describe your symptoms and how it affects your abilities and capacities of your service requirement. You are not a doctor and do not need to explain the diagnosis like the physician statement but you do need to explain how your diagnosis symptoms affect your job performance. Also, the personal statement of disability should be prepared last and only after a thorough and comprehensive review of the entirety of the medical documentation that is mentioned or submitted as part of a physician's statement — including the history, progress notes, diagnostic test results, etc. The consistency and accuracy is important for all three statements to be considered. Inaccuracies will lead to delays in processing your application.
What are some of the disabling criteria for conditions that are eligible.
Conditions prevent performing essential elements of the job for which you were hired.
Continued working in your current position will aggravate your conditions and make you more disabled
Impairments can be from any cause: age, congenital, personal injuries & work comp. Remember it does not have to be from a work related injury to qualify.
Applying for Disability Retirement
You should consider applying for disability retirement only after you have provided your employing agency with complete documentation of your medical condition and your agency has exhausted all reasonable attempts to retain you in a productive capacity, through accommodation or reassignment.
FERS Eligibility Requirements
You must meet all of the following conditions to be eligible for disability retirement:
You must have completed at least 18 months of Federal civilian service which is creditable under the Federal Employees Retirement System (FERS).
You must, while employed in a position subject to the retirement system, have become disabled, because of disease or injury, for useful and efficient service in your current position.
The disability must be expected to last at least one year.
Your agency must certify that it is unable to accommodate your disabling medical condition in your present position and that it has considered you for any vacant position in the same agency at the same grade or pay level, within the same commuting area, for which you are qualified for reassignment.
You, or your guardian etc., must apply before your separation from service or within one year thereafter. The application must be received by either OPM or your former employing agency within one year of the date of your separation.
You must apply for social security disability benefits. Application for disability retirement under FERS requires an application for social security benefits. If the application for social security disability benefits is withdrawn for any reason, OPM will dismiss the FERS disability retirement application upon notification from the Social Security Administration.
Lastly a couple of notes to remember about FERS Disability.
FERS Medical Disability: 60% of Salary First Year. 40% of Salary Following Years
You can work outside the Federal government and make up to 80% of your Federal salary.
Your FERS payments decrease by your earnings from work.
FERS Deadline! Must file within one (1) year of last date of employment.
You can file for FERS early. You do not have to quit. You can wait and elect to go on FERS.
FERS is Easier than the Stricter Requirements for Social Security Disability (SSD)
SSD: Your impairments must meet the Listings under Social Security Disability law.
SSD: You cannot work in ANY sustained gainful employment.
Basics on How to Apply for FERS:
Complete FERS form. Google FERS or ask your employer's personnel office OPM.
Remember you need a doctor's expert medical opinion report that meets FERS requirements.

You or employer send your FERS packet to Office of Personnel Management.
If you are someone who is struggling with getting all three parts of your FERS disability approved or retirement approved there are lawyers that can help you. I know not everyone is in Oklahoma City or in Florida where you can find me but a scheduled visit with our team can help you successfully apply for FERS. IF you are unable to come see us there are lawyers who do FERS representation that can draft affidavits on your behalf that address each of the three parts of eligibility requirements for FERS disability or retirement qualification. You can do an internet search for a good one if you need help and can't make it to one of our clinics.
Well that does it for this episode of Federal Workers Comp Coffee break Podcast.
I want to thank you for listening and want to remind you to share this podcast with other federal workers you think would benefit from this information. Also, if you need an approved medical provider for your DOL -OWCP Or Longshore case in Florida you can find me in Tampa and in Jacksonville. To make a consult with me to discuss your case or if you know someone in Florida who is recently injured you can call the clinic at 813-877-6900 or in Oklahoma at 844-625-5300. Also, if you are in another state and you want me to assist you with claim questions or assistance for your doctor you can email me at fedcompconsultants@protonmail.com
---