Episode 40 Federal Workers Compensation Coffee Break Podcast- FMLA Tutorial & Helpful Tips!
By Jorge Rodriguez In Uncategorized On June 10, 2023
---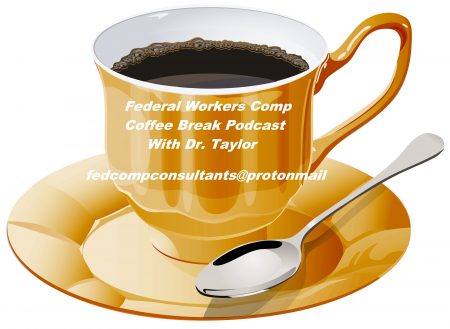 The podcast is free and is educational. If you need help with anything related to a federal workers compensation claim…help is just a cup of coffee away.
Family Medical & Leave Act (FMLA) Paper Work Tutorial helpful tips!
Employee rights under the FMLA . The Family and Medical Leave Act does not give letter carriers any additional paid leave, beyond the paid leave to which carriers are entitled under NALC's National Agreement with the Postal Service and any related postal handbooks and manuals. Rather, the law guarantees employees:
♦ The right to take time off, using annual leave or leave without pay (LWOP) in most situations, and sick leave in certain circumstances, for the purposes listed above.
♦ The right to retain the job and its benefits. The employer may not discontinue or change an employee's benefits, change his or her job rights, place the employee on restricted sick leave or take disciplinary action against the employee for taking leave covered by the FMLA.
♦ The right to be informed. The employer is required by the FMLA to inform employees that they have a right to leave under the law,¹ and to inform employees whether any leave they have requested is covered by the FMLA.
Specific rules and regulations . Employee rights and employer responsibilities under the FMLA are governed by detailed federal regulations² and by Section 515 of the Postal Service's Employee and Labor Relations Manual (ELM).
WHO is eligible employee use FMLA leave?
A covered employer must grant an eligible employee up to a total of 12 workweeks of unpaid, job-protected leave in a 12 month period for one or more of the following reasons:
for the birth of a son or daughter, and to bond with the newborn child;
for the placement with the employee of a child for adoption or foster care, and to bond with that child;
to care for an immediate family member (spouse, child, or parent – but not a parent "in-law") with a serious health condition;
to take medical leave when the employee is unable to work because of a serious health condition; or
for qualifying exigencies arising out of the fact that the employee's spouse, son, daughter, or parent is on covered active duty or call to covered active duty status as a member of the National Guard, Reserves, or Regular Armed Forces.
The FMLA also allows eligible employees to take up to 26 workweeks of unpaid, job-protected leave in a "single 12-month period" to care for a covered service member with a serious injury or illness.
Click here for the NALC FMLA forms.
Dr. Taylor's educational podcast utilizes his experience and history as a DOL – OWCP provider and his years of consulting and teaching all things federal workers compensation related. This is an educational short form format for learning how to successfully file federal workers compensation claims.
Dr. Taylor's contact information is: https://fedcompconsultants@protonmail.com
If you need a provider or assistance with a DOL claim in Tampa Florida or in Oklahoma you can make an appointment to see him and the other providers at the clinic at 813-877-6900 in Florida or 844-625-5300 in Oklahoma City in Oklahoma.
---