Episode 43 Federal Workers Compensation Coffee Break Podcast- Help I just got Hurt! A step by step guideline!
By Jorge Rodriguez In Uncategorized On November 9, 2023
---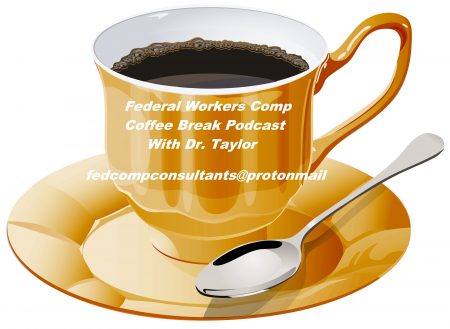 Federal Workers Compensation Coffee Break Podcast is about all things related to Federal Workers Compensation, FECA, OWCP, DOL & Longshore claim filing as an injured federal worker. The podcast is an educational and informative training on how to navigate the DOL -OWCP claims filing process for all types of injured US government and federal workers. The podcaster has 28 years in assisting with federal workers compensation as a consultant and trainer. The podcast is free and is educational. If you need help with anything related to a federal workers compensation claim…help is just a cup of coffee away.
You have been injured on the job. What are you supposed to do? What type of a condition is it, and what paperwork is required? This handbook will walk you through the basic steps of getting the needed medical care, and then guide you through the sometimes complicated and confusing steps of reporting and documenting your compensation case. Anytime you have questions or need assistance in dealing with a workers' compensation issue, you can call and ask to see me for a consultation at M&R Medical & Therapy and/or speak Dr. Taylor or our Workers' Compensation Specialist for assistance and advice.
This podcast episode does not cover all the details of the Federal Employee's Compensation Act or all the benefits employees may be due. Rather, it is intended to provide quick and simple guidance that will help you through the majority of the situations you will encounter if you suffer a job-related injury or disease.
Dr. Taylor's educational podcast utilizes his experience and history as a DOL – OWCP provider and his years of consulting and teaching all things federal workers compensation related. This is an educational short form format for learning how to successfully file federal workers compensation claims.
---