Episode 44 Federal Workers Compensation Coffee Break Podcast- LWEC & Electronically Filing a CA-7 Form
By Jorge Rodriguez In Uncategorized On November 9, 2023
---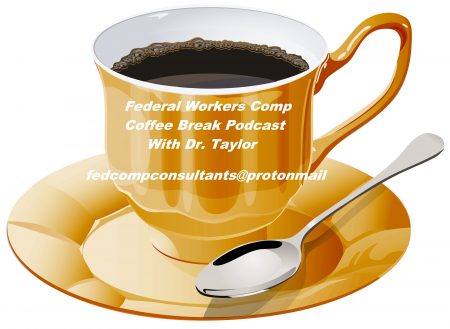 OWCP Form CA-7 Claim for Compensation, is used for claiming compensation for wage loss due to an on-the-job injury when leave is used most of the time. But it also is used for other things that I want to cover in today's podcast. There are 4 basic reasons for filing a CA-7 form in SECTION 2 of the form. Reimbursement for Leave without pay,, Leave buy back, Other wage loss; specify type, such as downgrade, loss of night differential, etc. and lastly a schedule award for a financial settlement for their work related injuries.
Now the CA-7 form itself requires that the injured worker complete the front side and submit it to the employer. The employer completes the reverse (side or page 2) and forwards it to OWCP. When OWCP does not timely receive CA-7s, employees suffer delayed payment of benefits. Now there is a new process of filing the CA-7 form and that is filing the form electronically in ECOMP. So let's dive in on this topic and also we are going to touch on a topic that most people do not understand that is associated with the CA-7 form and that is LWEC or lost wage earning capacity.
CA-7s should be filed via the injured workers ECOMP dashboard. The form can be found in ECOMP under the forms section. The injured worker can track the form's submission to OWCP via the dashboard. If the form has not been forwarded to OWCP within the required 5 working days, a grievance investigation should be initiated.
FECA Act Federal law: 20 CFR 10.111(c) and 10.112(c) provide:
Upon receipt of Form CA-7 from the employee…the employer shall complete the appropriate portions of the form. As soon as possible, but no more than five working days after receipt from the employee, the employer shall forward the completed Form CA-7 …to OWCP.
Loss of Wage Earning Capacity (LWEC). The loss of wage-earning capacity determination performed pursuant to 5 U.S.C. 8115 provides that an injured worker will not be penalized for returning to a lower-paying job because of a disabling condition. It also permits the adjustment of compensation to reflect partial rather than total disability
Dr. Taylor's contact information is: https://fedcompconsultants@protonmail.com
If you need a provider or assistance with a DOL claim in Tampa Florida you can make an appointment to see him and the other providers at the clinic at M & R Medical & Therapy Center. To make a consult with Dr. Taylor to discuss your case or if you know someone if Florida who is recently injured you can call the clinic at 813-877-6900 or go to our website at https://mrtherapycenter.com/
---