Episode 5 Federal Workers Compensation Coffee Break Podcast; DOL CA-7 reimbursement of time off for doctors appointments
By Jorge Rodriguez In Uncategorized On December 30, 2021
---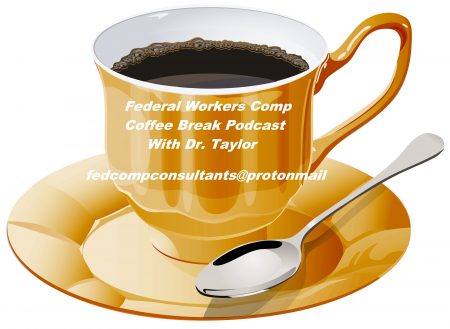 Episode 5 Federal Workers Compensation Coffee Break Podcast
Federal Workers Compensation Coffee Break Podcast is about all things related to Federal Workers Compensation, FECA, OWCP, DOL & Longshore claim filing as an injured federal worker. The podcast is an educational and informative training on how to navigate the DOL, OWCP claims filing process for all types of injured US government and federal workers. The podcaster has 26 years in assisting with federal workers compensation as a consultant and trainer. The podcast is free and is educational. If you need help with anything related to a federal workers compensation claim…help is just a cup of coffee away.
Episode 5 is all things related to the CA-7 Form for obtaining your lost lost wages & leave time while receiving your medical treatment. In order to be re-compensated for your lost wages for time off of work in order to make your doctor appointments and treatment you should file a CA-7 Claim for Compensation form for your lost wages. The reason OWCP created this form was for injured federal workers that got injured on the job to not lose your off time or use up your sick leave for days off for your doctors' appointments or treatments. You have rights and provisions that are afforded you as a DOL federal worker claimant. Let's teach you the basics on how to get reimbursed for your time off for your medical care, when you miss time off of your regular shift.
RELAX pull up a chair, poor a cup of coffee and take notes on how to get started with filing the most common type of DOL federal workers compensation forms for different scenarios.
Ready… lets go…while the coffee is still hot!
Here is the link for the FORM CA-7 Claim for Compensation:
https://www.dol.gov/sites/dolgov/files/owcp/regs/compliance/ca-7.pdf
For more information reach out to Dr. Taylor at:
fedcompconsultants@protonmail.com
---