Episode 8 Federal Workers Compensation Coffee Break Podcast – DOL Form CA-2A – Recurrence
By Jorge Rodriguez In Uncategorized On January 23, 2022
---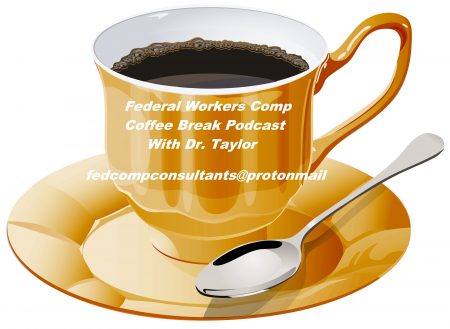 Federal Workers Comp Coffee Break
Episode 8 Federal Workers Compensation Coffee Break Podcast – DOL Form CA-2A – Recurrence
Federal Workers Compensation Coffee Break Podcast is about all things related to Federal Workers Compensation, FECA, OWCP, DOL & Longshore claim filing as an injured federal worker. The podcast is an educational and informative training on how to navigate the DOL, OWCP claims filing process for all types of injured US government and federal workers. The podcaster has 27 years in assisting with federal workers compensation as a consultant and trainer. The podcast is free and is educational. If you need help with anything related to a federal workers compensation claim…help is just a cup of coffee away.
A DOL – OWCP CA-2a: Recurrences or New Injuries, New Illnesses
A DOL – OWCP Federal Workers Compensation injury known as a recurrence of an injury is described as one of the following:
1. A spontaneous return of the symptoms of a previous injury or occupational disease without intervening cause.
2. A return or increase of disability due to a consequential injury: Example Something that occurs due to weakness or impairment caused by a work related injury.
3. Withdrawal of a specific duty assignment when the employee cannot perform the full duties of the regular or limited duty position.
There are two types of recurrences:
•A recurrence of the medical condition is the documented need for additional medical treatment after release from treatment for the work related injury. Continuing treatment for the original condition is not considered a recurrence.
•A recurrence of disability is an inability to work after an employee has returned to work, caused by a spontaneous change in a medical condition which had resulted from a previous injury or illness without an intervening injury or new exposure to the work environment that caused the illness.
DOL – OWCP form: CA-2A link: https://www.nalc283.org/pdf/ca-2a.pdf
Dr. Taylor has a long history working as an OWCP -DOL provider along with years of working as a federal workers comp consultant teaching all things federal workers compensation related. This is an educational short form format for learning how to successfully file federal workers compensation claims. So grab a cup of coffee and lets begin.
Dr. Taylor's contact information for more information or assistance is: fedcompconsultants@protonmail.com
or you can reach him at 813-877-6900 or make an appointment at https://mrtherapycenter.com/
Primary location is at
M & R Medical & Therapy Center
4150 N. Armenia Avenue, Suite 102
Tampa Florida 33607
---