Welcome to M&R Therapy Center
Federal workers compensation coffee break podcast episode 4 – travel reimbursement & form 957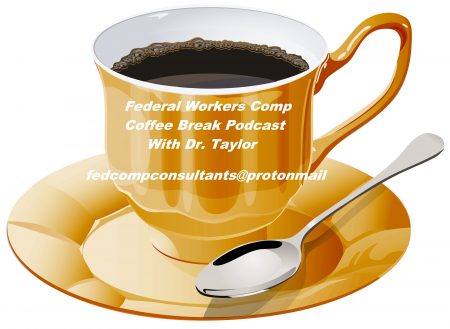 Episode 4 Federal Workers Comp Travel Reimbursement Form 957
MON, 27 DEC 2021 20:00:00 -0500 ◦ 12 MINUTES
Episode 4 of Federal Workers Compensation coffee break discusses the reimbursement of travel to and from doctors appointments, treatment visits, diagnostic visits and requested doctor visits. The CA-957 form itself allows for reimbursement of travel for different scenarios that wee discuss in this podcast.
The Ca-form 957 can be found at:
https://www.dol.gov/sites/dolgov/files/owcp/dfec/regs/compliance/owcp-957.pdf

So sit back with your cup of coffee and enjoy another coffeebreak with your OWCP consultant Dr. Stephen Taylor and lets learn how to get reimbursed for your travel expenses.
The instructions to completing the form is listed below:
Instructions (Form OWCP-957) 1. Enter claimant's full name: last name, first name, middle initial. 2. Enter claimant's claim/case file number. 3. Enter payee's full name (if person other than the claimant is to be reimbursed): last name, first name, middle initial. A payee other than the claimant must have special authorization. Please explain the following: a. Relationship to the claimant b. The reason you are requesting reimbursement 4. Enter the address of the person to be reimbursed. The address is to include: Street/RFD, City, State, Zip Code Note: If your claim is filed under the Federal Employees' Compensation, please enter the following as an address: the House Number and Street Name, City/Town, State, and Zip Code. For the FECA program to effectuate proper claims management, a FECA claimant is expected to provide the home address where he or she resides. A Post Office (PO) Box or attorney/representative address does not suffice for this purpose. 5. 6, and 7. Complete a separate block for each medical facility visited on the same day. For travel on different days, complete one block for each date. a. Enter date of travel. b. Mark one box only. c. Mark one box only. d. Mark one box only. e. Enter the name and address of the medical facility. f. Mark each box for which you are claiming reimbursement and list the amount of money spent for each item. g. Enter the total number of miles traveled by private automobile. h. The physician or designee is to complete this item (for Black Lung use only). 8. The person claiming reimbursement must sign here. Attach all original receipts for expenses listed in 5f, 6f, and 7f. The claimant's full name and Social Security Number should appear on each receipt.