Federal Workers Compensation Coffee Break Podcast
By Jorge Rodriguez In Uncategorized On December 12, 2021
---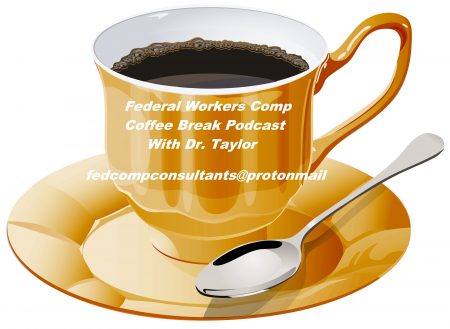 Federal Workers Comp Coffee Break
Federal Workers Compensation Coffee Break Podcast is about all things related to Federal Workers Compensation, FECA, OWCP, DOL & Longshore claim filing as an injured federal worker. The podcast is an educational and informative training on how to navigate the OWCP claims filing process for all types of injured US government and federal workers. The podcaster has 26 years in assisting with federal workers compensation as a consultant and trainer. The podcast is free and is educational. If you need help with anything related to a federal workers compensation claim…help is just a cup of coffee away. The short coffee break format highlights solutions and gives directions on how to successfully resolve any federal workers compensation claim related issue. So if you are a federal employee and you want to learn about OWCP – DOL & FECA workers compensation….pour a cup of coffee and drop by…you will be glad you did.
Federal Workers Compensation Coffee Break Introduction
Episode 1 is an introduction to Dr. Taylor and his history as an OWCP – DOL provider and his years of consulting and teaching all things federal workers compensation related. This is an educational short form format for learning how to successfully file federal workers compensation claims. So grab a cup of coffee and lets begin.
Dr. Taylor's contact information for more information or assistance is:
fedcompconsultants@protonmail.com

Tweets by FedCompPodcast
https://podyssey.fm/podcast/itunes1600040602-Federal-Workers-Compensation-Coffee-Break


https://federalworkerscompensationcoffeebreak.buzzsprout.com/
https://music.amazon.com/podcasts/4eabf9db-c274-425d-8c88-e90e4cc993b7/federal-workers-compensation-coffee-break
https://podcasts.apple.com/us/podcast/federal-workers-compensation-coffee-break/id1600040602

https://www.audible.com/pd/Podcast/B08K561MTV

https://www.podchaser.com/podcasts/federal-workers-compensation-c-3413862
https://podcastaddict.com/podcast/3744253
https://player.fm/series/federal-workers-compensation-coffee-break/episode-23-federal-workers-compensation-coffee-break-podcast-longshore-harbor-workers-compensation
https://www.stitcher.com/show/federal-workers-compensation-coffee-break/episode/episode-29-federal-workers-compensation-coffee-break-podcast-owcp-ecomp-entity-designation-207209467
https://feeds.buzzsprout.com/1902653.rss
https://feeds.buzzsprout.com/1902653.rss
---